Custom Engagement Ring Guide
Designing a custom ring with S. Kind & Co. is an exciting individual process.
Getting engaged is a special and exciting time, and choosing the perfect engagement ring is an important part of the experience. That's why we offer complimentary consultations and a custom ring design service to make sure your ring perfectly reflects your values, style, and personality.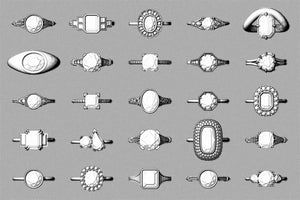 Read on to learn more about custom engagement ring design, including:
Why go the custom ring route?
You may think that most people who go the custom ring route know exactly what they want. In our experience that is the furthest from the truth.
Custom Ring Timeline
A custom solitaire can sometimes be finished in as little as 4 weeks. A majority of our projects take 6-7 weeks to complete from start to finish.
Custom Ring Process
Consultation Chat with the maker of every S. Kind and Co. ring, Jacob, Sourcing Deposit, Stone Sourcing & Selection. Final Deposit, Design, Production, & Delivery.
Why go the custom ring route?
Most custom clients come to us without a clear vision. Maybe you love certain aspects of different rings but haven't found the perfect combination. That's where we come in. We can take all your favorite elements and combine them into a cohesive design that's uniquely you.
If you're someone who loves the idea of co-creating something new and one-of-a-kind, a custom ring is a must. We'll work with you every step of the way to create a ring that's truly exciting and unique.
So why go custom? Because it's more than just a ring - it's an experience. It's a chance to create something that's tailored specifically to you, that represents your spirit, and that you'll cherish for a lifetime.
Custom engagement ring design myths. Let's bust some myths about custom engagement rings:
MYTH #1: I need a huge budget to go custom.
Not true! We work with a range of budgets to create your dream ring. Our basic solitaire ring, The Dunne, starts at just $3000. While most of our custom ring designs start at $6500 and can go up to accommodate any larger budget.
MYTH #2: I need to be an expert in jewelry to go custom.
You don't need to be a gemologist or have any specialized knowledge of ring design to create a custom engagement ring. We'll guide you through every step of the process, helping you make decisions that are right for you and your budget.
MYTH #3: I have to do custom design in person.
While we love meeting our clients in person, we work predominantly remotely. We can send you pictures and videos and communicate with you via phone, Google Meetings, FaceTime, or Skype. We're dedicated to making the process as seamless and stress-free as possible.
MYTH #4: Custom design is only for complex and avant-garde designs.
Custom design simply means that your ring is created specifically for you. It doesn't have to be a complex or out-there design. It can be a classic solitaire setting that puts the focus on your favorite stone. Whatever your vision, we're here to help make it a reality.
MYTH #5: Custom design takes 3 or more months to complete
Custom design does take more time than simply getting one of our ready-to-ship rings. That said a custom solitaire can sometimes be finished in as little as 4 weeks. A majority of our projects take 6-7 weeks to complete from start to finish. If you have a specific timeline in mind please let us know and we will let you know what we can make happen.
The Custom Process From Complimentary Consult to Finished Custom Engagement Ring
To initiate the process of creating your dream jewelry piece, the first step is to schedule a consultation chat with Jacob, our expert jewelry designer and the maker of every S. Kind and Co. engagement ring. We take about 30-45 minutes to get to know you, understand your design ideas, and clarify the details that will bring your vision to life.
To schedule a chat about your project, you can book an appointment here.
During the consultation, we will cover the following topics and provide tips to help you make the most out of the session:
Inspiration & Ideas: You can share your inspiration and design ideas with us. We recommend creating a Pinterest board, an Instagram collection, or a folder of screenshots to showcase your ideas. You can also highlight any specific design elements that you do not want to include in your jewelry piece.
Budget: We can create a beautiful and memorable piece within your budget, whether it's small or almost unlimited. Knowing your budget early on helps us to make choices that maximize the beauty of your jewelry while staying within your price range.
Gold & Gemstones: After reviewing your design inspiration, we will explore the available gemstones and gold selections. While we do not choose specific stones at this stage, we will suggest options based on your preferences. We will also advise you on gold colors that pair well with your chosen stone or skin tone and decide on 14kt vs. 18kt gold.
Timeline: If you have a specific deadline in mind, please inform us as soon as possible. We can provide an approximate timeline for your project, but it is best to leave some extra room as fine jewelry making is a meticulous process.
Ring Size: We will help you determine your ring size, either by mailing you a ring sizer or by suggesting a visit to your local jeweler for sizing. If the jewelry piece is a surprise gift, we can suggest methods to determine the appropriate ring size.
Communication Process: We respect your privacy and can keep your project a secret if it is a surprise. Alternatively, we are happy to involve your significant other in the process.
Sourcing Deposit and Stone(s) Selection
After finalizing our plan, we can commence with the exciting task of sourcing stones! However, prior to starting the process, we request a $750 sourcing deposit to cover the expenses of stone sourcing and initial rough design work. This deposit is non-refundable and will be applied to the cost of the stone you choose or transformed into store credit if you decide to delay your custom design. To make the payment, we will send you an invoice via email, which can be settled using all major credit cards or PayPal.
Stone Sourcing & Selection: After we have a clear understanding of the gem you're looking for, we collaborate with our vendors locally and internationally, as needed, to locate a stone or stones that are uniquely suited to your ring. This sourcing process usually takes between 5 to 7 days on average.
We'll work with you to help you choose the one that best reflects your dreams. Although having a long-distance relationship may make you feel apprehensive, there's no need to worry – we're highly experienced in working with clients who are far away. We regularly work with custom design clients located in countries such as Australia, Denmark, Canada, Singapore, and the UK. We can send you photos and videos that capture every facet of your stone, so you can examine it in detail. When deciding between different-sized gems we can also create a simple flat sketch of your ring size to get a better sense of scale. And of course, we're always available to offer professional guidance and assistance to help you make your selection.
Final Deposit, Design, and Shipping Your Ring
Final Deposit: We ask for the remaining deposit at this stage to secure your stone and design and create your setting. 
Design: Our design process is truly magical and 90% of the time Jacob's first design is the final design that gets approved. Using state-of-the-art laser scanning technology, Jacob takes the exact proportions of your gem and creates a hyper-realistic 3d render of your design to approve. We include one revision in the price of your ring. Once you approve your design no further changes can be made. For certain projects, we may also include a preliminary black-and-white sketch phase and or a plastic sample stage so you can be sure every detail is exactly right.
Creation of your Custom Engagement Ring: The creation of your ring into polished recycled gold or platinum takes 4-5 weeks after the approval of the final design. For updates feel free to reach out to us.
Delivery of your Custom Engagement Ring: For our valued clients in the United States, we are pleased to inform you that your ring will be shipped fully insured via UPS overnight/2-Day shipping. A signature will be required upon delivery, and we kindly advise against having a doorperson or any third party receive the package. We recommend that you be present at the time of delivery or have it shipped to your workplace.
For our international clients, please be aware that you are responsible for all international taxes, tariffs, and import duties. Please note that the shipper, typically UPS, will contact you regarding any duties that need to be paid. In many cases, payment must be made prior to delivery. If you are an international client expecting a package from us, please keep an eye out for a message from UPS or FedEx.
To ensure adequate insurance coverage, the full value of your piece will be displayed on the duty paperwork. Unfortunately, we cannot determine what customs charges will be, so we advise that you check with your local duties prior to placing an order and take these fees into consideration when budgeting.